December Case of the Month
Clinical History:
A 77-year-old man, heavy smoker, with history of chronic obstructive pulmonary disease with severe paraseptal emphysema, and recurrent pneumothoraces, who presented with cough and inspiratory chest pain, and was found to have a moderate left pneumothorax with a left upper lobe (LUL) consolidation. A LUL wedge resection was performed showing prominent multifocal micronodular epithelial cell proliferation (Figures 1-3). Immunohistochemical stains (IHC) showed the neoplastic cells to be positive for pancytokeratin (AE1/AE3), WT1, and calretinin (Figure 4), but negative for claudin-4, CEA, TTF-1, p40, CD163, S100, CD1a, ERG, CD31, SOX10, SMA and collagen IV. BAP1 expression was lost by IHC (Figure 5), and several asbestos bodies were identified on an iron stain (Figure 6)..
Click here to see more.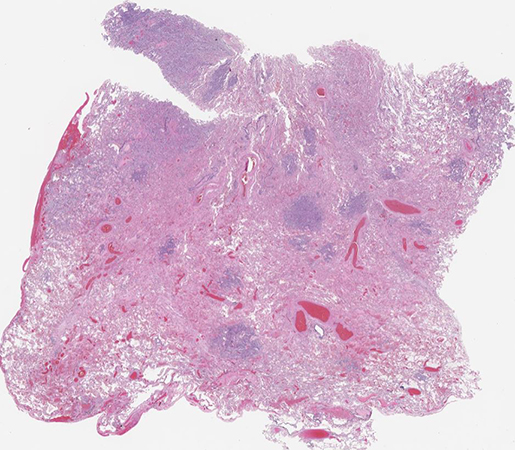 Save the Date!
2024 PPS Biennial Meeting
June 20-22, 2024

New York University
New York City, USA