September Case of the Month
Clinical History:
A 73-year-old man was seen in the emergency room for neck and cheek swelling, which turned out to be a blocked salivary duct which eventually resolved. During this visit, it was noted that he had a right upper lobe lung lesion on chest CT imaging. He was a firefighter and continued to smoke a half a pack per day for the last 25-30 years. Later, he underwent wedge resection (Figures 1-3 H&E, 4-7 TTF-1/p40) followed by completion lobectomy of the right upper lobe of lung.
Click here to see more.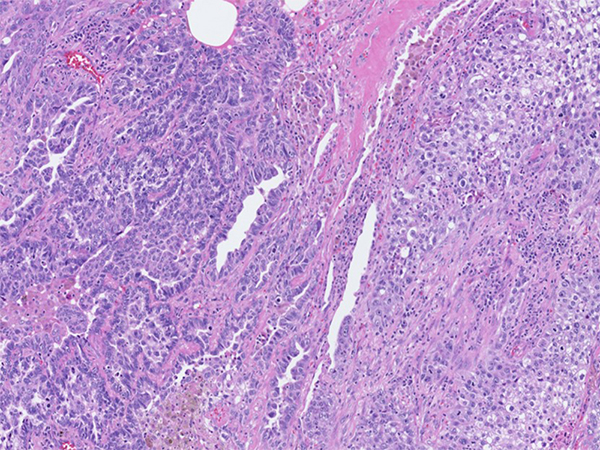 2019 PPS Biennial Meeting Lifetime Achievement Award
Professor Elisabeth Brambilla

June 26-June 28, 2019
PPS Biennial Meeting in Dubrovnik


Dr. Elisabeth Brambilla is the recipient of the 2019 PPS Biennial Meeting award!

The PPS Biennial meeting in Dubrovnik was a great success with over 290 in attendance. It featured lectures and updates on inerstitial lung disease, pulmonary infection, immunotherapy and molecular diagnostics by many noted speakers.

Handouts of presentations are now available! Note you will need to login to access the files.

Special IASLC Offer! - PPS members attending the meeting are eligible for a discounted IASLC membership and access to the Journal of Thoracic Onology Pathology Collection. See this flyer for further details!