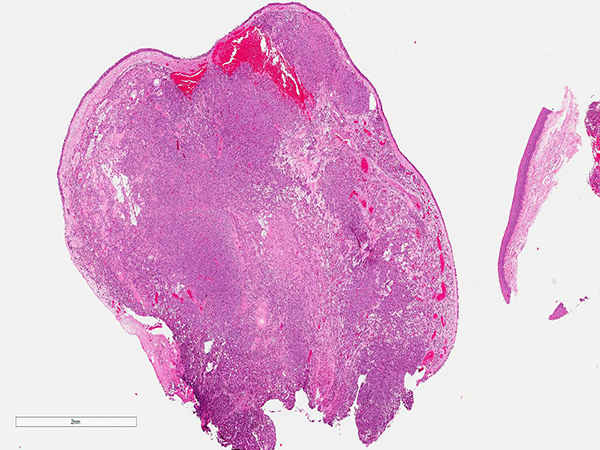 Clinical History: A middle-aged woman who presented with hemoptysis and hacking cough was found to have a 1.9-cm endobronchial nodule intimately associated with the posterior wall of the right mainstem bronchus, extending into the trachea. After an endobronchial biopsy (Figures 1-4), the mass was resected (Figures 5 and 6). The neoplastic cells were positive for smooth muscle actin (SMA, Figure 6) and negative for keratin AE1/AE3, CAM5.2, synaptophysin, chromogranin, S-100 and CD34.

Quiz:
Q1. Where are tumors of this type most commonly located?
Thigh
Uterus
Finger
Kidney
Q2. What is this tumor most likely to be mistaken for on H&E?
Mucoepidermoid carcinoma
Carcinoid tumor
Hemangiopericytoma
Metastatic renal cell carcinoma
Q3. Which of the following is true regarding this tumor?
These lesions have been reported in the mediastinum
In the respiratory tract, most examples are malignant
Most examples of this neoplasm are strongly positive for desmin
This lesion is a type of paraganglioma ("chemodectoma")
Answers to Quiz
Q1. C
Q2. B
Q3. A
Discussion
Glomus tumors are most commonly encountered in the extremities, classically in the subungual region of the fingers. Glomus tumors of the respiratory tract are rare. As in the soft tissue, most glomus tumors in this location are benign. Exceptional examples with malignant behavior have been reported. The most common location of primary glomus tumor of the respiratory tract is the trachea. Primary mediastinal glomus tumors have also been reported. Histologically, these tumors are composed of sheets of cytologically bland cells set in a variably prominent vascular background. The lesion most commonly considered in the differential diagnosis is carcinoid tumor, which is easily distinguished by immunohistochemistry. Glomus tumors are positive for smooth muscle actin and negative for pan-cytokeratin, CAM5.2, synaptophysin and chromogranin. Desmin is negative in most cases; when positive, it is usually focal. The prognosis is good after complete resection.

Take home message for trainees: Consider the possibility of glomus tumor if you see a bland lesion in airway mucosa (trachea or bronchus) that looks like carcinoid tumor but does not stain for neuroendocrine markers.
References
Gaertner E, Steinberg D, Huber M, et al. Pulmonary and mediastinal glomus tumors: report of five cases including a pulmonary glomangiosarcoma: a clinicopathologic study with literature review.
Am J Surg Pathol
2000;24: 1105-14.
Koss MN, Hochholzer L, Moran C. Primary pulmonary glomus tumor: a clinicopathologic and immunohistochemical study of two cases. Mod Pathol 1998;11:253-8.

Menaissy YM, Gal AA, Mansour KA. Glomus tumor of the trachea. Ann Thorac Surg 2000;70:295-7.
Contributors
Sanjay Mukhopadhyay, M.D.
Staff Pathologist
Department of Pathology
Cleveland Clinic, Cleveland, OH, USA