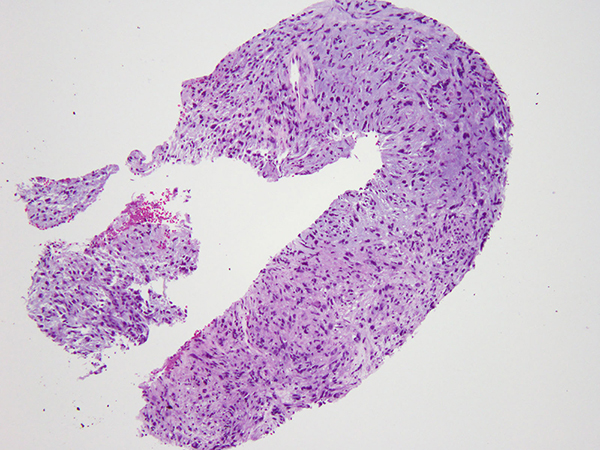 Clinical History: An 82-year-old woman was found to have a 1.4 cm perihilar nodule in the right upper lobe (Figure 1) on a surveillance CT four years after a lobectomy for a lung adenocarcinoma. Prior history also includes a remote diagnosis of a poorly differentiated breast invasive ductal carcinoma, status post left mastectomy, adjuvant chemotherapy, radiation and Tamoxifen. The nodule was sampled by a core biopsy (Figures 2-5). The tumor was positive only for vimentin (Figure 6) but negative for pan-cytokeratin and multiple other markers including vascular markers (CD31, CD34, ERG), myoepithelial markers (S100, SOX10, p63, SMA), CD117, STAT6, and ALK. Subsequently, next generation sequencing detected an EWSR1-CREB1 translocation.
Diagnosis
Primary pulmonary myxoid sarcoma (PPMS)

Quiz:
Q1. What is the differential diagnosis of pulmonary myxoid/chondromyxoid lesions?
Pulmonary hamartoma
Epithelioid hemangioendothelioma
Inflammatory myofibroblastic tumor
Myoepithelial tumors
Metastases
Primary pulmonary myxoid sarcoma
All of the above
Q2. Histologic and immunohistochemical features of this entity include:
Gross: well-circumscribed or nodular, pale and glistening or gelatinous cut surface, gray-white
Microscopic: lobulated, cords of relatively bland polygonal, spindle and stellate cells within prominent myxoid stroma
IHC: positive for vimentin, and often negative for all other immunomarkers
All of the above

Q3. What other tumors are characterized by EWSR1-CREB1 fusion?
Angiomatoid fibrous histiocytoma, malignant gastrointestinal neuroectodermal tumor, and clear cell sarcoma
Extraskeletal myxoid chondrosarcoma
Low grade fibromyxoid sarcoma and sclerosing epithelioid fibrosarcoma
Soft tissue myoepithelial tumor and myxoid liposarcoma

Answers to Quiz
Q1. G
Q2. D
Q3. A

Discussion
Primary pulmonary myxoid sarcoma (PPMS) is a very rare and relatively recently-described entity. It is more common in women than men (2.5:1), with a predilection for smokers and a mean age at presentation of 45 years old. It is often asymptomatic and found incidentally, but among symptomatic cases the most commonly reported presentation is cough with or without hemoptysis. Although most commonly localized to the lung, cases of PPMS with distant metastases have been reported, including a patient who died due to CNS disease.

Grossly, PPMS is nodular and well-circumscribed with a pale gelatinous and grey-white cut surface. It ranges in size from 1.5 to 4 cm and is always related to a bronchus with most cases showing a predominant endobronchial component. Microscopically, PPMS is lobulated, often multinodular, and composed of cords of polygonal, spindle and stellate cells with a prominent myxoid lightly basophilic stroma, which is Alcian blue-positive and hyaluronidase sensitive. Occasionally, prominent surrounding fibrosis or fibrous pseudocapsule can be seen, and the associated peritumoral inflammation is generally mild. Focal pleomorphism can be seen and up to 50% of the cases have necrosis. Mitotic activity is generally low with less than 5 mitoses per 10 high power fields.

The tumor is positive for vimentin and can be focally positive for EMA by immunohistochemistry. Focal staining with myoid, neuroendocrine and melanocytic markers has been reported. The defining feature is t(2;22)(q33;q12) chromosomal translocation resulting in the fusion of the EWSR1 and CREB1 genes. Other members of the CREB family transcription factors have also been implicated, including ATF1 and CREM.

The differential diagnosis of myxoid neoplasms of the lung includes primary and metastatic entities. Primary myxoid lesions of the lung include pulmonary hamartoma, chondroma, myoepithelial tumors, inflammatory myofibroblastic tumor (IMT), epithelioid hemangioendothelioma (EHE), pulmonary myxoma, aggressive angiomyxoma, and radiation-induced sarcoma. Pulmonary hamartoma and chondroma lack necrosis, mitoses and atypia. Hamartomas also contain fat or other mesenchymal elements, which is not seen in PPMS. Myoepithelial tumors with reticular pattern and chondromyxoid stroma are morphologically similar to PPMS, but such tumors are immunoreactive for myoepithelial markers (p63/p40, SMA, calponin, S100, SOX10, GFAP). IMTs are generally more spindled and have a prominent intratumoral inflammatory component, with immunoreactivity for ALK in most cases. Unlike PPMS, EHE is immunoreactive for vascular markers. Primary pulmonary myxoma and aggressive angiomyxoma are exceedingly rare, and often stain positive for vascular markers. A variety of metastatic sarcomas also enter the differential diagnosis, including myxoid liposarcoma, myxofibrosarcoma, and extraskeletal myxoid chondrosarcoma (EMC), the latter of which is the closest morphologic mimic of PPMS. Unlikely PPMS, however, EMC harbors translocations involving NR4A3 gene on chromosome 9, with partner genes including TAF15 and EWSR1.

There is a long list of mesenchymal neoplasms that harbor translocations involving the EWSR1 gene, of which atypical fibrous histiocytoma (AFH), malignant gastrointestinal neuroectodermal tumor, and a small subset of clear cell sarcomas of soft tissue share CREB1 as the translocation partner with PPMS. The latter two entities are morphologically distinct from PPMS, generally lack myxoid features, and show diffuse immunoreactivity with S100 protein. It has been hypothesized that AFH and PPMS represent a spectrum of the same family of tumors due to their molecular, clinical and immunohistochemical similarities. However, other than the rare myxoid variant of AFH, the two are generally morphologically distinct.

This tumor could not be definitively diagnosed on a biopsy before molecular results became available. The report was initially signed out descriptively as a "malignant spindle cell neoplasm with myxoid features" with the differential diagnosis that included PPMS. IHC profile did not support myoepithelial differentiation, EHE, IMT or other entities such as morphologically unusual variants of melanoma, gastrointestinal stromal tumor, and solitary fibrous tumor. Given the prior history of lung adenocarcinoma, the possibility of recurrent lung carcinoma with sarcomatoid transformation was considered, as was the possibility of post-radiation sarcoma given the patient's prior history of radiation for breast carcinoma. The latter entity is associated with high rates of TP53 mutations and a complex karyotype with multiple mostly unbalanced structural rearrangements, which were not detected on subsequent molecular studies. Instead, the presence of EWSR1-CREB1 fusion confirmed the diagnosis of PPMS rather than other possibilities.

Take home message for trainees: Primary pulmonary myxoid sarcoma is a rare entity characterized by an EWSR1-CREB1 translocation, endobronchial predominance, and lack of distinguishing immunomarkers. It should be considered in the differential diagnosis of pulmonary myxoid tumors.
References
Chang JC, Rekhtman N. Tumor genetics and cytogenetics: solid tumors. In: Rekhtman N., Baine MK, Bishop, JA, editors. Quick Reference Handbook for Surgical Pathologists. 2019. 2nd ed. Switzerland (AG): Springer Nature. p. 121-3.

Prieto-Granada CN, Ganim RB, Lhang L, et al. Primary pulmonary myxoid sarcoma: a newly described entity--report of a case and Review of the literature. Int J Surg Pathol 2017;25:518–25.

Thway K, Nicholson AG, Lawson K, et al. Primary pulmonary myxoid sarcoma with EWSR1-CREB1 fusion: a new tumor entity. Am J Surg Pathol 2011;35:1722–32.

Thway K, Fisher C. Tumors with EWSR1-CREB1 and EWSR1-ATF1 fusions: the current status. Am J Clin Pathol 2012;36: e1–e11.

Contributor
Marina K Baine, MD, PhD
Thoracic Pathology Fellow
Memorial Sloan Kettering Cancer Center, NY

Natasha Rekhtman, MD, PhD
Associate Attending Pathologist
Memorial Sloan Kettering Cancer Center, NY