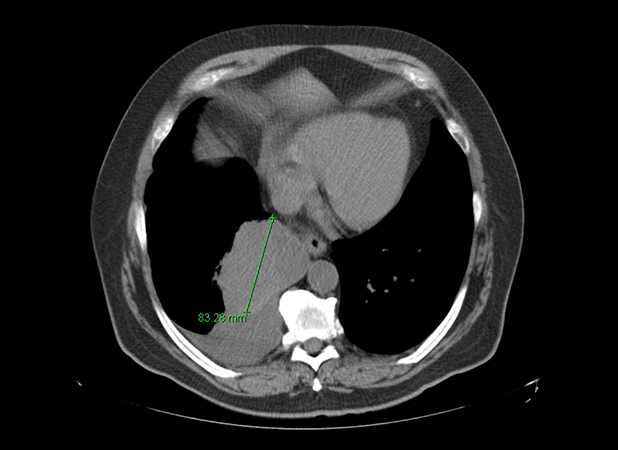 Clinical History: A 68-year-old-man never-smoker presented with a fever, cough, and rhinorrhea. The patient was treated for a presumed pneumonia; however, his symptoms persisted despite multiple courses of antibiotics. He subsequently underwent a chest CT scan, which revealed a solitary medial right lower lobe mass measuring 10.9 x 8.3 cm, concerning for a primary lung malignancy (Figures 1 and 2). No other abnormalities were seen. Biopsy was attempted, but the specimen only showed a minute focus of epithelioid malignant cells that was insufficient for further workup. The patient underwent right lower lobe lobectomy for diagnosis and curative-intent therapy. The patient has no history of prior malignancy.

On gross examination, the lobectomy revealed a pink-white, lobular, focally hemorrhagic mass measuring 10.1 cm. Histologic sections showed a solid proliferation of malignant epithelioid tumor cells with moderate amounts of clear-to-eosinophilic cytoplasm and enlarged nuclei with vesicular chromatin and variably prominent nucleoli (Figures 3 and 4).

Quiz:

Q1. What should be included in the differential diagnosis based on the histologic findings:
Adenocarcinoma with solid pattern
Squamous cell carcinoma, non-keratinizing type
Large cell carcinoma
Metastatic carcinoma
Other: sarcoma, melanoma, large cell lymphoma
All of the above
Q2. Which set of immunostains is generally recommended as the first panel in the work-up of epithelioid malignant tumors in the lung
without adeno- or squamous differentiation:
CK7, CK20
Desmin, vimentin
TTF-1, p40
Synaptophysin, Ki-67
Q3. If TTF-1 and p40 are negative, which marker is NOT useful to include in the next panel:
Pancytokeratin
Melanocytic markers (SOX 10 Melan-A, etc)
CD45
Vimentin
Answers to Quiz
Q1. F
Q2. C
Q3. D

Diagnosis
Metastatic melanoma of occult cutaneous origin

Discussion
On immunohistochemistry, the tumor cells were negative for TTF-1 and p40. The next set of stains showed that the tumor was diffusely positive for SOX10, S100, HMB-45, and melan-A, while negative for pancytokeratin and Cam5.2. Taken together, the findings supported the diagnosis of melanoma.

Next, the tumor was submitted for our institutional targeted next-generation sequencing (NGS) using a 468-gene panel (MSK-IMPACT), which revealed a total of 63 mutations (tumor mutation burden of 44.3 mutations per megabase) with an abundance of G>A and C>T transitions – the hallmark of UV-induced mutagenesis. These findings supported the origin of this tumor from a sun-exposed cutaneous site, despite the lack of evidence of cutaneous melanoma on patient's presentation or follow-up after the diagnosis. The patient also did not have a known history of excisions of any melanocytic nevi in the past. This suggested that the tumor likely arose from a regressed cutaneous primary and metastasized to the lung as a massive solitary lesion in the absence of an overt skin primary upon presentation.

Patients who present with melanoma in the lung usually have a known diagnosis of melanoma from elsewhere. In rare instances, melanomas can be found in the lung as the only site of disease. Historically, these patients with lung-only melanomas were considered to represent primary pulmonary melanomas (PPM)– an entity that is recognized by the thoracic WHO classification. Despite the numerous case reports and case series, there has been persistent controversy regarding the concept of PPM. While a single case of a bronchial blue nevus has been described, there are no other reports documenting the presence of a native melanocytic population in the bronchial or alveolar tissue that could serve as a precursor to a PPM. An alternative possibility is that these lung-only melanomas represent solitary metastases from melanomas that have undergone spontaneous regression, which can occur in up to 8.7% of cutaneous melanomas with regional metastasis, as clearly suggested by the current case.

In a recent study from our group, genomic profiling via MSK-IMPACT was used to explore the molecular pathogenesis of a set of 10 lung-only melanomas. Typically, melanomas and other cutaneous malignancies originating from sun-exposed skin are marked by an exceptionally high tumor mutation burden with a characteristic ultraviolet radiation (UV) mutational signature (predominance of C>T or G>A mutations at dipyrimidines and excess of CC>TT or GG>AA double substitutions). These signatures are most reliably detected on whole-genome/exome sequencing; however, targeted NGS assays with large multigene panels (>300 genes) may also be sufficient if properly validated. Remarkably, in our series, predominant UV signature was detected in all cases suitable for signature analysis (n=8), thus essentially confirming metastasis from occult cutaneous melanomas. Taken together, the findings suggested that most and possibly all lung-only melanomas represent metastases from occult cutaneous primaries and argue against the concept of PPM. In general, mutational signature analysis of the type illustrated here (which may demonstrate a UV or smoking signature) is becoming a useful diagnostic adjunct for clarifying the site of origin for tumor of unknown or unexpected primary site.

In the current case, the clinical presentation of a large, solitary mass in a patient with no history of malignancy is highly suggestive of a primary lung carcinoma. In this context of a presumed primary lung carcinoma, the diffuse epithelioid morphology may represent a major diagnostic pitfall. If TTF-1 and p40 are performed as an initial panel and found to be negative, the next step should include careful consideration of other diagnostic possibilities beyond non-small cell lung carcinoma. Second panel should include pankeratins, but it should be kept in mind that melanomas are well known to occasionally show aberrant keratin expression, usually in a focal/weak pattern. Therefore, inclusion of melanocytic markers (SOX10, Melan-A, HMB45 and S100 – the latter of which is least specific) should be considered for TTF-1/p40-negative malignant epithelioid tumors with negative or weak/focal expression of keratins.

Take home message for trainees: Melanomas can present in the lung as massive, solitary tumors in the absence of primary elsewhere. This can present an important diagnostic pitfall, and should be always kept in mind as a diagnostic possibility for TTF-1/p40-negative epithelioid malignant tumors. Dominant UV signature in these tumors supports that most and possibly all lung-only melanomas represent metastases from a regressed or occult cutaneous primary and argues against the concept of primary lung melanomas.
References
Smith JL Jr, Stehlin JS Jr. Spontaneous regression of primary malignant melanomas with regional metastases. Cancer. 1965;18(11):1399-415.

Wilson RW, Moran CA. Primary melanoma of the lung: a clinicopathologic and immunohistochemical study of eight cases. Am J Surg Pathol. 1997;21(10):1196-202.

Yang C, Sanchez-Vega F, Chang JC, et al. Lung-only melanoma: UV mutational signature supports origin from occult cutaneous primaries and argues against the concept of primary pulmonary melanoma. Mod Pathol. 2020;33(11):2244-55.

Contributors
Soo Ryum Yang, MD
Thoracic Pathology Fellow
Memorial Sloan Kettering Cancer Center

Natasha Rekhtman, MD, PhD
Associate Attending Thoracic Pathologist
Memorial Sloan Kettering Cancer Center