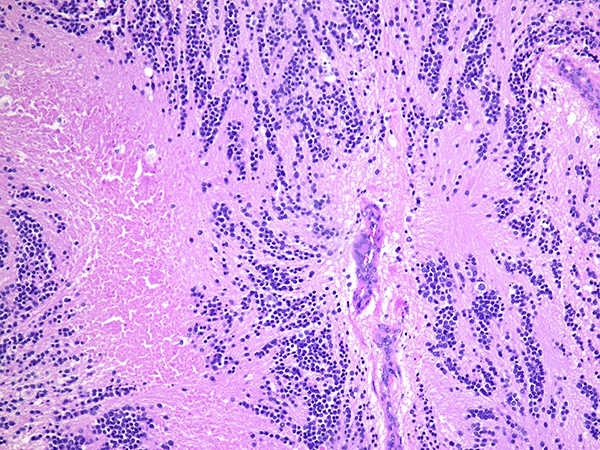 Clinical History: An 82-year-old man with a history of syndrome of inappropriate antidiuretic hormone secretion (SIADH), prostate cancer status post prostatectomy, underwent resection of a 3.6 cm PET-avid anterior mediastinal mass.

Figure legends:
Fig 1: PET/CT positive anterior mediastinal mass measures 3.6 cm, radiotracer uptake SUV max 6.8
Figures 2-6: H&E
Figure 7: CD-56
Figure 8: Chromogranin

Quiz:

Q1. Which thoracic neoplasm is the most frequent cause of paraneoplastic syndrome of inappropriate antidiuretic hormone secretion?
Small cell carcinoma of the lung
Small cell carcinoma of the thymus
Thymic neuroblastoma
Thymoma
Q2. Which of the following features is most consistent with small cell carcinoma of the thymus?
Fibrillary stroma
Finely granular chromatin
Mitotic rate of 5-10 mitoses/2 mm2
Rare apoptotic bodies
Q3. Which of the following is true regarding peripheral neuroblastic tumors of the thorax?
Risk stratification depends on clinical, morphologic, and genetic features.
Syndrome of inappropriate antidiuretic hormone secretion is a common presenting symptom.
They are most common in young adults.
They most frequently arise in the anterior mediastinum.

Answers to Quiz
Q1. A
Q2. B
Q3. A

Diagnosis
Anterior mediastinal neuroblastoma involving thymus and associated with syndrome of inappropriate antidiuretic hormone secretion (SIADH).

Discussion
Neuroblastoma and related peripheral neuroblastic tumors are among the most common neoplasms in young children with approximately 20% arising in the thorax and the incidence decreasing with age. As tumors of neural crest cell origin, they most frequently arise in the posterior mediastinum along the vertebrae with symptoms associated with mass effect, including neurologic symptoms secondary to spinal cord compression. Neuroblastic tumors can give rise to paraneoplastic syndromes, including Horner syndrome, opsoclonus-myoclonus-ataxia syndrome, and Kerner–Morrison syndrome. Rare cases of neuroblastoma arising in the anterior mediastinum of elderly patients have been reported, often in association with syndrome of inappropriate antidiuretic hormone secretion (SIADH).

The diagnosis and reporting of peripheral neuroblastic tumors requires careful morphologic assessment and immunophenotypic confirmation. Neuroblastic tumors are categorized according to cellular differentiation and the background stroma (i.e. neuropil, Schwannian stroma). Neuroblastoma is Schwannian stroma-poor (<50%) by definition and is further subcategorized as undifferentiated, poorly differentiated, and differentiating based on the amount of neuropil and neuronal differentiation. The mitotic-karyorrhectic index (MKI) should be reported due to its prognostic significance, given as the combined number of cells undergoing mitosis or karyorrhexis cells per 5000 cells. Tumor cells typically lack cytokeratin expression and demonstrate neuronal protein expression, including CD56, chromogranin, synaptophysin, PGP9.5, and neuron-specific enolase. While PHOX2B is positive in the overwhelming majority of pediatric neuroblastoma cases, the rate of positivity in adult cases appears to be lower with one study reporting only 2/4 positive cases in adult patients.

Before making the diagnosis of neuroblastoma, a number of more common, morphologically similar entities should be ruled out. The differential diagnosis includes thymoma, thymic neuroendocrine tumors, hematolymphoid neoplasms, rhabdomyosarcoma, and Ewing sarcoma, among others.

Neuroblastoma risk is predicted by a combination of clinical, morphologic, and genetic features, including age at diagnosis, degree of differentiation, MKI, and NMYC amplification status, among others. The specific prognosis of neuroblastoma associated with SIADH is unclear, given the rarity of these tumors. Several patients with long-term recurrence-free survival have been reported in the literature while patients with poor outcomes have generally presented with locally advanced or metastatic disease. In those patients with associated SIADH, removal of the tumor has resolved the patient's paraneoplastic syndrome.

Figure legends:
Fig 1. PET/CT positive anterior mediastinal mass measures 3.6 cm, radiotracer uptake SUV max 6.8
Fig 2. H&E stained section reveals small blue cell tumor amidst eosinophilic fibrillary matrix (20x)
Fig 3. Small blue cells amidst neuropil-rich stroma and foci with comedo-like necrosis (100x)
Fig 4. H&E stained section to highlight small round to oval blue cells with adjacent neuropils and focus of comedo-like necrosis (400x)
Fig 5. Mitotic figures and karyorrhectic debris was noted (400x)
Fig 6. Tumor cells involved thymic parenchyma and adjacent adipose tissues (100x)
Fig 7. CD56 immunostain (200x)
Fig 8. Chromogranin immunostain (200x)

Take home message for trainees:

Neuroblastoma is a rare diagnosis in the thorax, particularly in adult patients. Careful exclusion of other thymic tumors, including lymphoma and Ewing sarcoma, is necessary before making the diagnosis.

References
Argani P, Erlandson RA, Rosai J. Thymic neuroblastoma in adults. Am J Clin Pathol. 1997 Nov;108(5):537-43.

Hung YP, Lee JP, Bellizzi AM, Hornick JL. PHOX2B reliably distinguishes neuroblastoma among small round blue cell tumours. Histopathology 2017, 71, 786-794.

Rogowitz E, Babiker HM, Kanaan M, et al. Neuroblastoma of the elderly, an oncologist's nightmare: case presentation, literature review and SEER database analysis. Exp Hematol Oncol. 2014;3:20.

Sokol E, Desai AV. The evolution of risk classification for neuroblastoma. Children (Basel). 2019 Feb;6(2):27.

WHO Classification of Tumours Editorial Board. Thoracic tumours [Internet]. Lyon (France): International Agency for Research on Cancer; 2021 [cited 2021 June 7]. (WHO classification of tumours series, 5th ed.; vol. 5). Available from: https://tumourclassification.iarc.who.int/chapters/35.

Contributors
Christopher M Sande MD
AP/CP PGY-2
Department of Pathology and Laboratory Medicine
Hospital of the University of Pennsylvania Philadelphia, PA

Charuhas Deshpande MD
Clinical Associate Professor
Department of Pathology and Laboratory Medicine
Hospital of the University of Pennsylvania
Philadelphia, PA