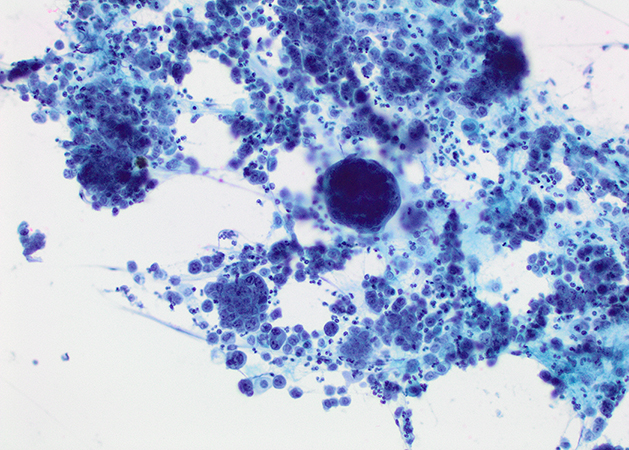 Clinical History: A 52-year old man presented with shortness of breath. A large pleural effusion was seen on the chest X-ray. A thoracentesis was performed, and 1.5 L bloody fluid was removed and sent to cytopathology for evaluation. Representative images from the cytospin and cell block preparation of the effusion sample are shown in Figures 1-3. A CT scan of the chest revealed a mass in the superior aspect of the left lower lobe with circumferential nodular pleural thickening. A percutaneous CT-guided biopsy was performed of a pleural based lesion. The histologic images are shown in figures 4 and 5.

Q1. The histopathologic features of this entity include all, except:
Areas of tumor necrosis and brisk mitosis
Focal squamoid differentiation
Primitive undifferentiated basaloid cells
Pseudoglandular pattern with focal mucin
Q2. What molecular alteration would be considered diagnostic for this entity?
EWS-FLI1 gene fusion
INI1 mutation/ Loss of SMARCB1 protein
NUTM1:BRD3 gene fusion
SMARCA4 mutation/ Loss of SMARCA4 protein
Q3. Which of the following is the best way to differentiate this entity from a poorly differentiated squamous cell carcinoma?
Basaloid-appearing cells
NUT1 immunostaining
Positivity for p40
Squamous differentiation

Answers to Quiz
Q1. D
Q2. C
Q3. B

Diagnosis
Primary pulmonary NUT carcinoma

Discussion
The cytology effusion sample was highly cellular and showed clusters of a poorly differentiated carcinoma with scattered single cells in a necroinflammatory background (Figures 1 and 2). Occasional cells demonstrated dense cytoplasm suggestive of squamous differentiation. Immunostains performed on the cell block preparation were positive for p40 (Figure 3) and negative for TTF-1. A diagnosis of poorly differentiated carcinoma with squamous differentiation was rendered. The subsequent biopsy showed a basaloid appearing carcinoma interspersed with squamous islands (Figure 4). Immunostains performed were positive for p40, CK5/6, and NUT (Figure 5), and negative for TTF-1, synaptophysin, and chromogranin. Fusion testing revealed a NUTM1:BRD4 fusion. The final diagnosis was a primary pulmonary NUT carcinoma.

NUT (nuclear protein in testis) carcinomas are aggressive malignant tumors that frequently present at an advanced stage. Arising predominantly in midline structures of the upper aerodigestive tract and mediastinum, primary pulmonary NUT carcinomas are extremely rare. These tumors occur in both sexes and across all age groups. Morphologically these tumors present with features of a poorly differentiated carcinoma with primitive cells and occasional squamous differentiation that may not be always present in small biopsy/cytological sampling. Tumor necrosis and increased mitotic rates are commonly seen. These tumors are defined by a rearrangement involving the NUTM1 (NUT midline carcinoma family member 1) gene, most frequently with BRD4 (bromodomain containing protein 4). A smaller subset of cases have been reported with fusions involving NUTM1:BRD3. Immunohistochemical staining is typically positive for cytokeratins, as well as squamous markers such as p40 and p63, with speckled nuclear staining for NUT1, which is highly specific for this entity. These tumors progress rapidly and have a poor outcome.

The diagnosis - especially on small specimens - is difficult without a high index of suspicion; these tumors are often diagnosed as poorly differentiated carcinomas or poorly differentiated squamous cell carcinomas. The most common differential diagnosis includes other basaloid neoplasms and small round cell tumors such as small cell carcinoma, poorly differentiated squamous carcinoma, thymic carcinoma, lymphoma, Ewing sarcoma/PNET, and germ cell tumors. Immunohistochemistry (NUT IHC) or molecular testing (NUTM1 fusion) is required to confirm the diagnosis of NUT carcinoma. .

Take home message for trainees:

Pulmonary NUT carcinomas are aggressive malignant tumors that frequently present at an advanced stage; cytology is often the primary diagnostic modality. A high index of suspicion with evaluation of the morphology together with specific diagnostic immunohistochemical markers (e.g. NUT antibody) and/or molecular analysis demonstrating rearrangement of the NUTM1 gene is necessary for an accurate diagnosis.

References
Chatzopoulos K, Boland JM. Update on genetically defined lung neoplasms: NUT carcinoma and thoracic SMARCA4-deficient undifferentiated tumors. Virchows Arch 2021;478:21-30.

Dutta R, Nambirajan A, Mittal S, et al. Cytomorphology of primary pulmonary NUT carcinoma in different cytology preparations. Cancer Cytopathol 2021 Jan;129:53-61.

French CA. Demystified molecular pathology of NUT midline carcinomas. J Clin Pathol 2010;63:492-6.

Lantuejoul S, Pissaloux D, Ferretti GR, McLeer A. NUT carcinoma of the lung. Semin Diagn Pathol 2021;38:72-82.

Contributors
Sinchita Roy-Chowdhuri, MD PhD
Associate Professor
Department of Pathology
The University of Texas MD Anderson Cancer Center
Houston, TX, USA