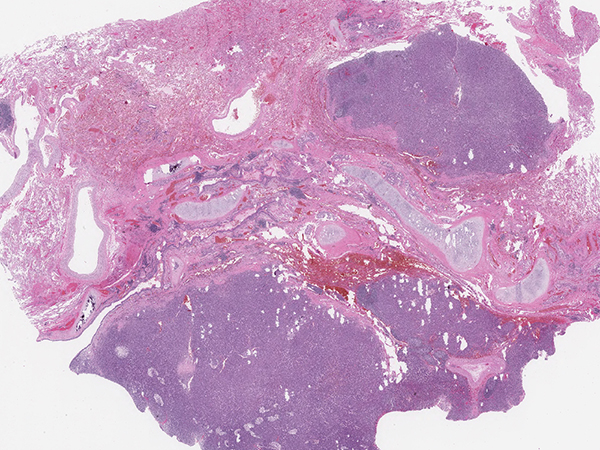 Clinical History: A 66-year-old woman, never-smoker, with a remote history of breast cancer presented with a fall and was found to have a lung mass on chest X-ray. PET/CT scan of the chest showed a 4.7 cm heterogeneous and partially calcified right upper lobe mass which was FDG avid (Figure 1). H&E sections of the resection specimen showed a well-circumscribed neoplasm associated with an airway (Figure 2). The tumor was composed of plump epithelioid to spindled cells with pale cytoplasm and relatively bland ovoid nuclei. Scattered cells showed hyperchromatic multilobated nuclei (Figure 3) but there was no increased mitotic activity. A rich network of capillaries and a few dilated hemangiopericytoma-like blood vessels were present (Figure 4). The stroma contained a prominent inflammatory infiltrate composed of lymphocytes, clusters of foamy macrophages and scattered eosinophils. Periodic acid-Schiff (PAS) stain highlighted prominent cytoplasmic glycogen (Figure 5). Immunohistochemical stains showed the neoplastic cells were positive for TFE3 (Figure 6) and negative for all other markers tested (including pan-cytokeratin, TTF-1, ERG, smooth muscle actin, HMB45, S100, GATA3, PAX8, TLE1, CD35, CD21, estrogen receptor, STAT6 and ALK-1). The tumor was sent for RNA fusion analysis using the Archer DX solid tumor gene fusion panel, which revealed a YAP1-TFE3 fusion.

Q1. The differential diagnosis of tumors with TFE3 translocations includes all of the following EXCEPT:
Renal cell carcinoma
Epithelioid hemangioendothelioma
Solitary fibrous tumor
Alveolar soft part sarcoma

Q2. Which of the following is true about the tumor in this case:
It never metastasizes
It is primary to the lung
It predominantly occurs in children
It often presents with multiple nodules
Q3. Which of the following is true about the tumor in this case:
There is an association with von Hippel -Lindau disease
There is an association with tuberous sclerosis
It would be positive for cathepsin K
It is negative for melanocytic markers
Answers to Quiz
Q1. C
Q2. B
Q3. D

Diagnosis
Clear cell stromal tumor of the lung

Discussion
This case illustrates an example of clear cell stromal tumor of the lung (CCST-L), previously termed hemangiopericytoma-like clear cell stromal tumor, a rare mesenchymal tumor of the lung recently reported to harbor YAP1-TFE3 gene fusions. A small number of cases have been described in the literature, predominantly in adult patients presenting with a solitary lung nodule. Grossly the tumor appears well-circumscribed and arises in close proximity to the bronchial tree. On microscopic examination, the tumor comprises a solid or nested proliferation of epithelioid to spindled cells with clear, pale or eosinophilic cytoplasm and ovoid nuclei. Scattered atypical cells with hyperchromatic, multilobated nuclei may be seen, but overall there is minimal cytologic atypia and no increased mitotic activity. The stroma is vascular with a rich capillary network and thick-walled hemangiopericytoma-like vessels. By immunohistochemistry, the tumor shows positive staining for TFE3 and vimentin, while other markers are negative. Notably, the immunoprofile of CCST-L is distinct from conventional hemangioblastoma (associated with von Hippel -Lindau disease), which expresses S100 and inhibin.

Primary mesenchymal tumors of the lung are relatively uncommon. The morphologic differential diagnosis includes spindle cell neoplasms of the lung (e.g. inflammatory myofibroblastic tumor, solitary fibrous tumor, synovial sarcoma) as well as metastases from other sites (e.g. sarcomas, melanoma, clear cell renal cell carcinoma). The presence of lymphocytes and other inflammatory cells in the stroma may raise consideration for an inflammatory myofibroblastic tumor or a hematopoietic neoplasm. Inflammatory myofibroblastic tumor is characterized by spindled to stellate cells in a fascicular growth pattern with loose myxoid to hyalinized stroma and admixed inflammatory cells, positivity for smooth muscle actin, and ALK-1 expression in a subset (up to 60% harbor ALK rearrangement). Solitary fibrous tumor consists of spindle cells in a storiform growth pattern with collagenous stroma, and can be differentiated by positivity for STAT6. Synovial sarcoma may show monophasic spindle cell or biphasic morphology, is positive for TLE1, CD99, and often cytokeratin, and has a characteristic translocation t(X;18).

Given the YAP1-TFE3 gene fusion in CCST-L, other entities in the TFE3 fusion family of neoplasms may enter the differential diagnosis including some variants of PEComa, MiTF-associated renal cell carcinoma, epithelioid hemangioendothelioma (EHE), and alveolar soft part sarcoma. Primary pulmonary PEComa (clear cell "sugar" tumor) or metastatic PEComas may share some morphologic similarities with CCST-L but can be differentiated by expression of melanocytic markers (HMB45, Melan-A) and cathepsin K. Metastatic renal cell carcinoma can be differentiated by expression of PAX8 and cytokeratin. EHE and alveolar soft part sarcoma both have distinctive morphology, and EHE would express vascular markers.

Surgical resection appears curative in the majority of CCST-L cases reported with clinical follow-up. However, there is one report of a patient presenting with synchronous metastases, so CCST-L is best considered as a neoplasm with uncertain malignant potential.

Take home message for trainees: Next generation sequencing technologies are being used increasingly for the molecular classification of tumors. Consider translocation-associated tumors including clear cell stromal tumor of the lung in the differential diagnosis of mesenchymal neoplasms of the lung.

References
1. Agaimy A, Stoehr R, Michal M, et al. Recurrent YAP1-TFE3 Gene Fusions in Clear Cell Stromal Tumor of the Lung. Am J Surg Pathol 2021;45:1541-9.

2. Dermawan JK, Azzato EM, McKenney JK, et al. YAP1-TFE3 gene fusion variant in clear cell stromal tumour of lung: report of two cases in support of a distinct entity. Histopathology 2021;79:940-6.

3. Lindholm KE, Moran CA. Hemangioblastoma-like Clear Cell Stromal Tumor of the Lung: A Clinicopathologic and Immunohistochemical Study of 5 Cases. Am J Surg Pathol 2020;44:771-5.

Contributors
Daffolyn Rachael Fels Elliott, MD, PhD
Assistant Professor
Department of Pathology and Laboratory Medicine
University of Kansas Medical Center
Kansas City, United States

Rashna Madan, MBBS
Professor
Department of Pathology and Laboratory Medicine
University of Kansas Medical Center
Kansas City, United States

Ameer Hamza, MD
Assistant Professor
Department of Pathology and Laboratory Medicine
University of Kansas Medical Center
Kansas City, United States

Hongyan Dai, MD, PhD
Assistant Professor
Department of Pathology and Laboratory Medicine
University of Kansas Medical Center
Kansas City, United States

Anders Meyer, MD
Assistant Professor
Department of Pathology and Laboratory Medicine
University of Kansas Medical Center
Kansas City, United States