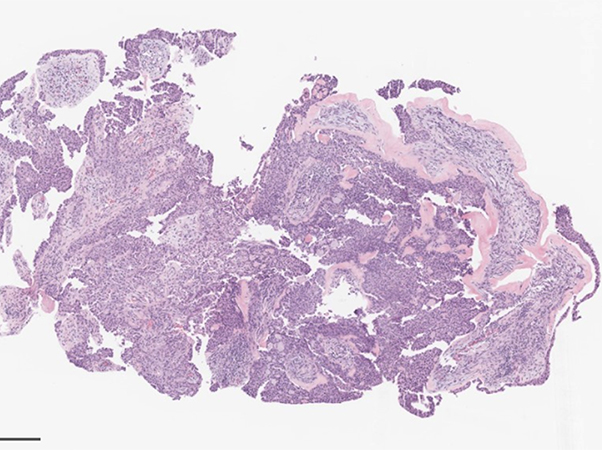 Clinical History: An 81-year-old woman was admitted to the hospital for influenza. She was a former smoker with 15 pack-years, but otherwise had no significant past medical history. Imaging at that time revealed an incidental 3.1 cm left upper lobe nodule (SUV 4.7) involving the hilum, and she underwent a bronchoscopic biopsy of this mass.

Histologic images and key IHC and special stains are illustrated below.

A fusion panel detected an EWSR1::CREM fusion.

Q1. Which is the most common EWSR1 partner found in this tumor type?
MYB
ATF1
MAML2
NTRK3
Q2. When these tumors are primary to the lung, what is the most common anatomic location?
Subpleural
Perifissural
Intravascular
Endobronchial
Q3. What other tumor types are associate with EWSR1::ATF1 or EWSR1::CREB1 fusions?
Angiomatoid fibrous histiocytoma
Primary pulmonary myxoid sarcoma
Clear cell sarcoma
All of the above

Answers to Quiz
Q1. B
Q2. D
Q3.

Diagnosis
Hyalinizing clear cell carcinoma

Discussion
As illustrated in the provided images, histologic sections demonstrated bland-appearing epithelioid cells associated with fibromyxoid to sclerotic stroma. There were focal sharply circumscribed globules of matrix-like material and focal mucin. The neoplastic cells showed round nuclei, dispersed chromatin, and a moderate amount of eosinophilic cytoplasm. The tumor was positive for p40 and CK7, but negative for TTF-1. SOX10 and calponin were negative. Ki67 proliferation rate was approximately 3%.

Hyalinizing clear cell carcinoma (HCCC) of the lung is rare salivary gland-type neoplasm with few reported cases. HCCCs occur in adults and are characterized by their banal cytologic appearance, hyalinized to fibrous stroma, and endobronchial or central location. In the latest head and neck WHO, the term has been changed to "clear cell carcinoma". Although this patient was a former smoker, HCCCs are not known to be smoking-related. Reported cases have shown an indolent natural history, with surgery being the mainstay of treatment.

Because of its rarity, the primary challenge in the evaluation of HCCC is recognition of it as a diagnostic entity. Like their counterparts in the head and neck, HCCCs of the lung are positive for p40, p63, CK5/6, and high-molecular-weight cytokeratin, but negative for myoepithelial markers. They are also negative for TTF-1, Napsin A, and neuroendocrine markers. Notably, as in this case, HCCC can have focal mucin, which may raise a differential diagnosis of mucoepidermoid carcinoma. Both HCCCs of the lung and head and neck classically harbor EWSR1 fusions. While most cases in the lung show EWSR1::ATF1 fusions, EWSR1::CREM fusions have also been reported, as seen in this case. In this small biopsy, the finding of an EWSR1::CREM fusion supported the morphologic and immunophenotypic impression of HCCC.

EWSR1 fusions are well known for their "promiscuity" in that they are found in multiple tumor types, including Ewing sarcoma, desmoplastic small round cell tumor, myxoid liposarcoma, and extraskeletal myxoid chondrosarcoma, among others. Specifically, the EWSR1 fusions with ATF1 (or CREM as an alternative partner) are found in clear cell sarcoma, primary pulmonary myxoid sarcoma, clear cell odontogenic carcinoma, and angiomatoid fibrous histiocytoma.

Take home message for trainees: Generally, salivary-type neoplasms in the lung are relatively uncommon. The much more common consideration for a p40-positive epithelioid tumor in a smoker would be a non-keratinizing squamous cell carcinoma. Here, the bland cytologic appearance and the presence of the distinctive fibrous bands were a clue to the diagnosis. However, the definitive diagnosis would not be possible without the fusion testing result.

References
1. Zhang, Y, Han, W, Zhou, J, et al. Primary lung hyalinizing clear cell carcinoma: a diagnostic challenge in biopsy. Diagn Pathol. 2022 March;17(35).

2. Takamatsu M, Sato Y, Muto M, Nagano H, Ninomiya H, Sakakibara R, Baba S, Sakata S, Takeuchi K, Okumura S, Ishikawa Y. Hyalinizing clear cell carcinoma of the bronchial glands: presentation of three cases and pathological comparisons with salivary gland counterparts and bronchial mucoepidermoid carcinomas. Mod Pathol. 2018 Jun;31(6):923-933.

3. García JJ, Jin L, Jackson SB, Larsen BT, Lewis JE, Sukov WR, Roden AC. Primary pulmonary hyalinizing clear cell carcinoma of bronchial submucosal gland origin. Hum Pathol. 2015 Mar;46(3):471-5.

4. Chapman E, Skalova A, Ptakova N, Martinek P, Goytain A, Tucker T, Xiong W, Leader M, Kudlow BA, Haimes JD, Hayes MM, Bohus P, Miesbauerova M, Lee CH, Ng TL. Molecular profiling of hyalinizing clear cell carcinomas revealed a subset of tumors harboring a novel EWSR1-CREM fusion: report of 3 cases. Am J Surg Pathol. 2018 Sep;42(9):1182-1189.

5. Husain A, Nicholson AG, Farver CF. Hyalinizing clear cell carcinoma of the lung. In: Thoracic tumours WHO classification of tumours. 5th ed. Lyon, France: International Agency for Research on Cancer; 2021. p 123-4.

Contributors
Rachel Fanaroff, MD
Thoracic Pathology Fellow
Memorial Sloan Kettering Cancer Center
New York, NY

Natasha Rekhtman, MD, PhD
Attending Pathologist
Memorial Sloan Kettering Cancer Center
New York, NY