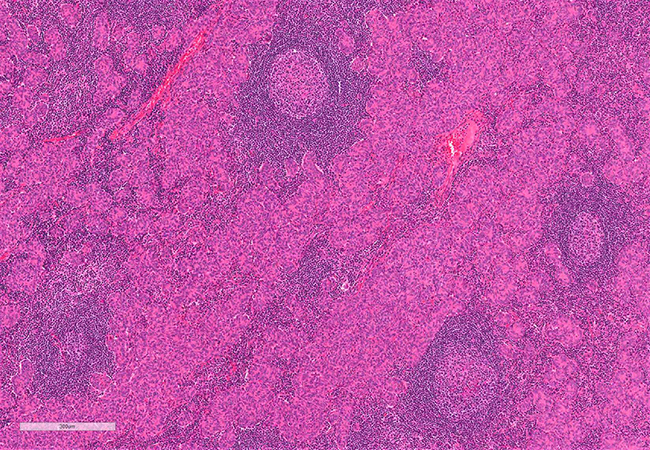 Clinical History: The patient is a 53-year-old-male with a mediastinal mass and no other relevant past medical history. Grossly the lesion consisted of a solid-cystic mass that measured 7.7 cm. A well-defined capsule was not evident. Microscopically, while the edges merge with the thymic tissue without a definite capsule, the mass is well-circumscribed (Figure 1). The neoplasm is formed by micronodules, cords, and sheets of bland epithelioid, oval to spindle cells (Figures 2 and 3). A prominent lymphoid component is present, which consists mostly of small lymphocytes and several lymphoid follicles with germinal centers. The epithelioid and spindled cells are positive for p63 and cytokeratin 19 (not shown). The lymphoid component consists of numerous CD20-positive B-lymphocytes (Figure 4: CD20) showing reactive hyperplastic lymphoid follicles as well as a few TdT-positive T- immature cells (Figure 5: CD5; Figure 6: TdT).

Q1. This tumor is:
Thymoma WHO type AB
Thymic lymphoid follicular hyperplasia.
Sarcomatoid carcinoma involving a lymph node
A rare variant of thymoma

Q2. This tumor is frequently associated with
Myasthenia gravis
Hypogammaglobulinemia
Sjögren's syndrome
None of the above
Q3. The presence of lymphoid hyperplasia with lymphoid follicles excludes a diagnosis of thymoma..
True
False
Answers to Quiz
Q1. D
Q2. D
Q3. B

Diagnosis
Micronodular thymoma with lymphoid stroma.

Discussion
Thymomas are known to have a broad range of morphologic patterns. Depending on the histologic type, the thymic epithelial cells are accompanied by a variable population of immature T lymphocytes. B-lymphocytes, if present, are scant and focal in the most common variants of thymoma.

Micronodular thymoma with lymphoid stroma (MNTLS) is rare, first described in 1999 as an unusual morphologic variant of spindle cell thymoma showing a marked hyperplastic response of the normal thymic B-cell compartment.

The age range is broad and varies from 41 to 83 years for the cases described in the literature. Most of these tumors are asymptomatic and discovered incidentally. Thymomas of this type are not associated with myasthenia gravis.

Grossly, these thymomas are well circumscribed or encapsulated with cut surfaces similar in appearance to type A thymomas, with some degree of cystic change. Sometimes these tumors may be soft and friable.

Microscopically, MNTLS consists of a proliferation of small nests and cords with bland-appearing epithelial oval to spindle cells with elongated nuclei with fine chromatin and inconspicuous nucleoli. The epithelial nests are intermingled with an abundant lymphoid component, consisting of a dense population of small lymphocytes with numerous lymphoid follicles and germinal centers. The epithelial nests may coalesce to form larger islands and sheets. The epithelial cells are immunoreactive to high molecular weight keratins and in lesser degrees to low molecular weight keratins. The lymphoid component is mostly formed by B-lymphocytes, with normal follicular architecture with germinal centers, and scant immature thymic lymphocytes. Broad bands of fibrous tissue are not present.

Differential diagnoses include thymic follicular hyperplasia, thymoma WHO type AB, micronodular thymic carcinoma, or, in tumors with a prominent cystic change, acquired multilocular thymic cyst. Thymic follicular hyperplasia is usually associated with myasthenia gravis. The lobulated architecture of the thymus is preserved, and the lymphoid follicles, which may be numerous, are associated with the medulla and perivascular spaces. Thymoma WHO type AB shows lymphocyte-poor areas with spindle epithelial cells, and variable lymphocyte-rich areas that may contain spindled or polygonal epithelial cells forming a meshwork obscured by the lymphoid component. Unlike MNTLS, the lymphocytes in type AB thymomas are mostly immature TdT-positive thymic lymphocytes. In micronodular thymic carcinomas, lymphoid hyperplasia is present. However, the epithelial cells have overt malignant high-grade atypia, and the tumors also have necrosis and increased mitotic activity. In small biopsies, the bland nuclei and monotonous appearance of the spindle cells may be helpful to suspect MNTLS and differentiate from carcinoma or other spindle cell neoplasms involving lymph nodes.

The mechanism that triggers the lymphoid reaction in this specific variant of thymoma is not yet understood. Interestingly, while thymic lymphoid follicular hyperplasia is usually associated with myasthenia gravis or other systemic autoimmune diseases, there is no strong association of MNTLS with systemic immune disorders. It has been shown that these tumors may harbor monoclonal B-cell populations, which hypothetically could constitute precursors of thymic/mediastinal B-cell lymphomas.

MNTLS are usually localized tumors found at low stages, usually stage I/II in the Masaoka classification, and pT1a in the TNM classification, and have favorable clinical outcome.

Take home message for trainees: MNTLH is an uncommon variant of thymoma. While the accompanying lymphocytes in most thymomas comprise a population of immature thymic T-lymphocytes, MNTLH is characterized by a prominent B-cell population with lymphoid follicles and scarce immature T lymphocytes.

References
Oramas D, Moran CA. Micronodular thymomas with prominent cystic changes: a clinicopathological and immunohistochemical study of 25 cases. Int J Surg Pathol 2021;29:352-7.

Ströbel P, Marino M, Feuchtenberger M, et al. Micronodular thymoma: an epithelial tumour with abnormal chemokine expression setting the stage for lymphoma development. J Pathol 2005;207:72-82.

Suster S, Moran CA. Micronodular thymoma with lymphoid B-cell hyperplasia: clinicopathologic and immunohistochemical study of eighteen cases of a distinctive morphologic variant of thymic epithelial neoplasm. Am J Surg Pathol 1999;23:955-62.

Tateyama H, Saito Y, Fujii Y, et al. The spectrum of micronodular thymic epithelial tumours with lymphoid B-cell hyperplasia. Histopathology 2001;38:519-27.

Contributors
Dr. Andrea V. Arrossi
Staff Pathologist
Cleveland Clinic
Cleveland, OH