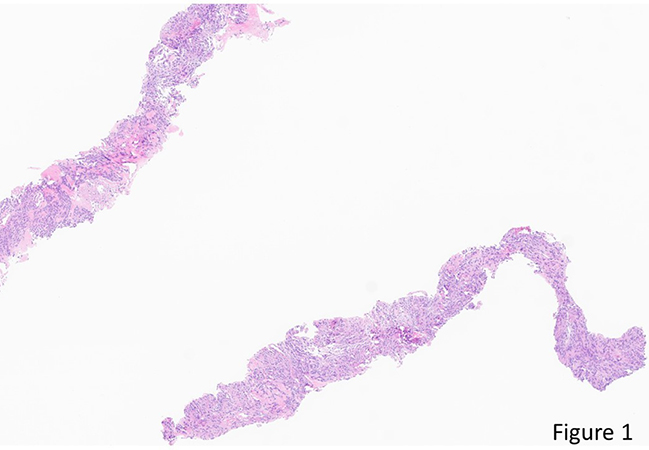 Clinical History: A 70-year-old man with an apparently isolated lower lobe lung mass underwent CT-guided core needle biopsy. On H&E sections (Figure 1: 40x, Figure 2: 200x, Figure 3: 400x) there are up to 4 mitotic figures per 3 high-power fields. The neoplasm has patchy reactivity with antibodies directed against EMA (Figure 4) and progesterone receptor (Figure 5), and diffuse strong reactivity with antibodies directed against SSTR2A (Figure 6). There is no reactivity with antibodies directed against AE1/AE3, TTF-1, napsin A, p40, synaptophysin, SOX10, S100, STAT6 or CD34.

Q1. The morphologic differential diagnosis for the H&E appearance of this spindle cell neoplasm includes
Metastatic thymoma
Solitary fibrous tumor
Monophasic synovial sarcoma
All of the above
Q2. Which of the following features would NOT support a diagnosis of pulmonary meningioma?
Size usuall > 4 mm
Irregular borders
Transitional or fibrous patterns
Psammoma bodies
Q3. Pulmonary meningiomas are typically positive for which of the following immunostains:
SSTR2A
Sox1
Synaptophysin
Pankeratin
Answers to Quiz
Q1. D
Q2. B
Q3. A
Diagnosis
Meningioma with increased proliferative activity

Discussion
Pulmonary meningiomas have morphologic and immunohistochemical features indistinguishable from those of meningiomas found in the central nervous system (CNS), and correlation with clinical and imaging findings is required to exclude the possibility of a metastasis from the CNS. Regardless of origin, the World Health Organization's (WHO) grading system is used to stratify meningiomas into benign, atypical and malignant varieties. At least two cases of malignant pulmonary meningioma have been reported. The present case has mitotic activity sufficient for a grade 2 meningioma per the CNS classification system. Pulmonary meningiomas most commonly show transitional and fibrous patterns, and frequently contain whorls, intranuclear inclusions and psammoma bodies. Other entities in the differential diagnosis include metastatic thymoma, solitary fibrous tumor, synovial sarcoma, and carcinoid tumor.

Like their CNS counterparts, pulmonary meningiomas are often positive for EMA and progesterone receptor. Immunohistochemistry for somatostatin receptor 2A (SSTR2A) shows diffuse and strong staining in almost all CNS meningiomas, as well as in pulmonary meningiomas, but is also positive in some neuroendocrine neoplasms, gastrointestinal stromal tumors and follicular dendritic cell sarcomas. Occasional cases of pulmonary meningioma have shown CD56, CD34, S100, smooth muscle actin, calretinin or CD117 immunoreactivity. Other melanoma markers, neuroendocrine markers and cytokeratins are expected to be negative, although cytokeratin expression has been noted in malignant CNS meningiomas. Mutations in NF2, BAP1 and other genes have been identified CNS meningiomas, but the frequency of these alterations in pulmonary meningiomas remains unclear.

There are multiple theories as to the origin of pulmonary meningioma, including possible origin from heterotopic rests, pluripotent stem cells, or meningothelioid nodules. Although cases with co-occurrence of meningothelioid nodules and meningioma have been reported, molecular features of meningioma and meningothelioid nodules appear distinct. Morphologically, meningioma and meningothelioid nodules may be distinguished by their location, circumscription and size: meningothelioid nodules tend to be interstitial and perivenular, have irregular, ill-defined borders and are typically ≤3 mm in size, whereas meningiomas are well-circumscrib

Take home message

Consider meningioma in the differential diagnosis for a spindle cell neoplasm of the lung.

References
Incarbone M, Ceresoli GL, Di Tommaso L, et al. Primary pulmonary meningioma: report of a case and review of the literature. Lung Cancer 2008;62:401-407.

Ionescu DN, Sasatomi E, Aldeeb D, et al. Pulmonary meningothelial-like nodules: a genotypic comparison with meningiomas. Am J Surg Pathol 2004;28:207-214. Liu X, Xu X, Zou Y.

Pulmonary primary meningioma: A report of two cases and review of the literature. Heliyon 2023;9:e16705.

Motoi N, Duhig EE. Meningioma of the lung. In: WHO Classification of Tumours Editorial Board. Thoracic tumours. Lyon (France): International Agency for Research on Cancer; 2021. (WHO classification of tumours series, 5th ed.; vol. 5). https://publications.iarc.fr/595.

Sahm F, Perry A, von Deimling A, et al. Meningioma. In: WHO Classification of Tumours Editorial Board. Central nervous system tumours. Lyon (France): International Agency for Research on Cancer; 2021. (WHO classification of tumours series, 5th ed.; vol. 6). https://publications.iarc.fr/601.

Contributors
Dr. Julia Naso
Consultant Pathologist
Vancouver General Hospital
Vancouver, BC, Canada

Dr. Joseph Maleszewski
Consultant Pathologist
Mayo Clinic
Rochester MN
USA